Welcome to the League of Friends of Helston Community Hospital website.
We continue to support the staff and patients at the Hospital through this difficult time of the coronavirus and we appreciate the support given to us by the local community.
NOTICE TO MEMBERS
Due to the Covid situation the Committee feel it unwise to hold an Open Annual General Meeting this year.
Reports from the Chairman and Treasurer will be circulated to members in December.
Chairman Heather Gilbert - 1 December 2021


Helston Community Hospital is a small Community Hospital with 24 beds and holds various Clinics for people in the area.
The main purpose of our League of Friends is to provide funds for equipment and all aspects of comfort and care for the benefit of patients and staff throughout the Hospital.

The League of Friends Committee supports the Hospital by providing funding for equipment to make the patients stay in the Hospital more comfortable. We provide Easter, Christmas cards and presents for the patients. Maintain the Sensory Garden and outside flower beds with the help of the Helston/Lizard Rotary Club and volunteers.
The League receives support from the local Community in the way of legacies, fundraising events, donations and collections.
The League of Friends raises monies by organizing a Fete, Coffee Mornings and fundraising events.

---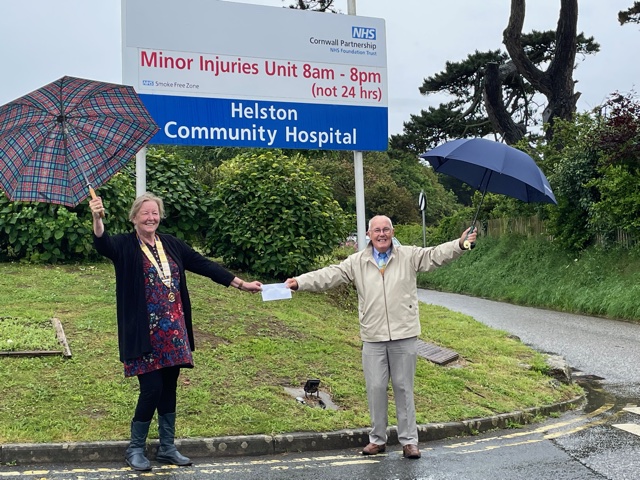 President of The Helston Rotary Club, Amanda Boxer, presenting a cheque
to Dr Ken Whittle President of The League of Friendsof Helston Community Hospital for £1472
from monies raised by its members during lockdown.

June 2021
---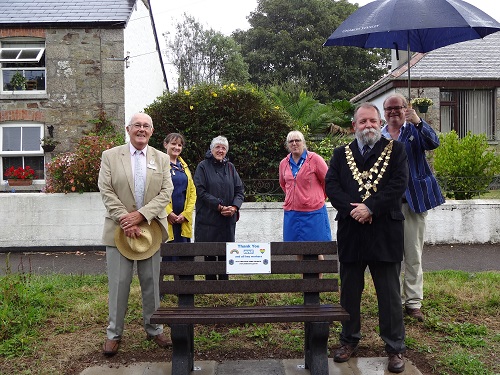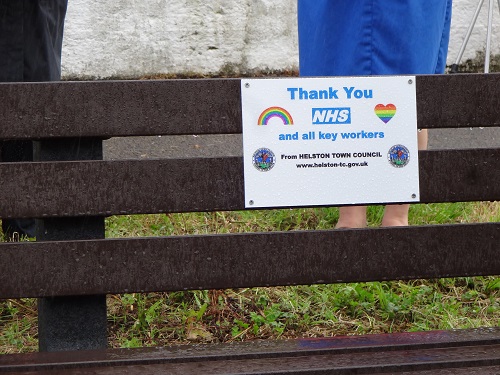 The Mayor of Helston John Martin and Councillor Tim Grattan-Kane with the League of Friends President Dr Ken Whittle, Chairman Heather Gilbert, Trudy Addington and Paula Hellier from Helston Community hospital with the new bench that the council have donated and dedicated to the NHS and all key workers.

It is situated on Meneage road, so if you are walking that way please take time to sit and reflect on the amazing work being done by the wonderful staff at Helston Community Hospital and all the key workers in Helston during this year difficult time. The council also very kindly donated £540 to the League of Friends to enable them to support the patients at the hospital.
---

Thank you to Paula Julian for raising £2250 from making masks and selling them outside her house and donating the money to the League of Friends.
What an inspiration and this money will be used within Helston Hospital to assist the Nurses and patients during this difficult time.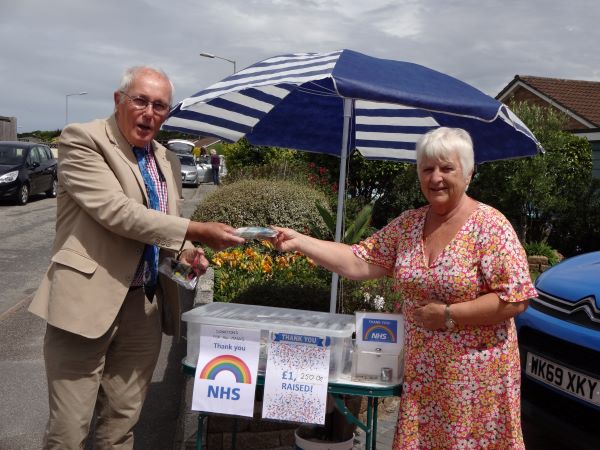 President Dr Ken Whittle and Mrs Paula Julian