Welcome to the League of Friends of Helston Community Hospital website.
Helston Community Hospital is a small Community Hospital with 24 beds and holds various Clinics for people in the area.
League of Friends provides funds for equipment to assist in the comfort and care of patients and staff throughout the Hospital as well as providing Easter, Christmas cards and presents for the patients.
The League receives support from the local Community in the way of legacies, fundraising events, donations and collections and raises monies by organizing a Fete, Coffee Mornings and fundraising events.
---
Officers for 2022

President Dr Ken Whittle
Chairman - Mrs Ann Ferris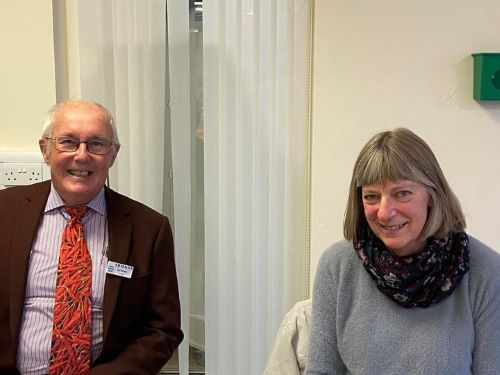 January 2022
Ann Ferris took her first Meeting, as Chairman, this week at the Helston Community Hospital.
The Committee have been not met for nearly two years but have continued to support the Hospital.

During this difficult period we have supplied the following:- 20 Chairs for the Reception £3336; Patient Flat Lift Kit £6965; Illuminated Magnifying Glass Trolley and Weight £408; 2 hoists £6621; Minor Injuries Unit Crash Trolley £1971, 9 remote TV controls and Labour £232, Maintenance of the Aquarium in Outpatients Waiting room £546, Christmas Presents for Patients, Easter Eggs for Patients
---
JUNE 2022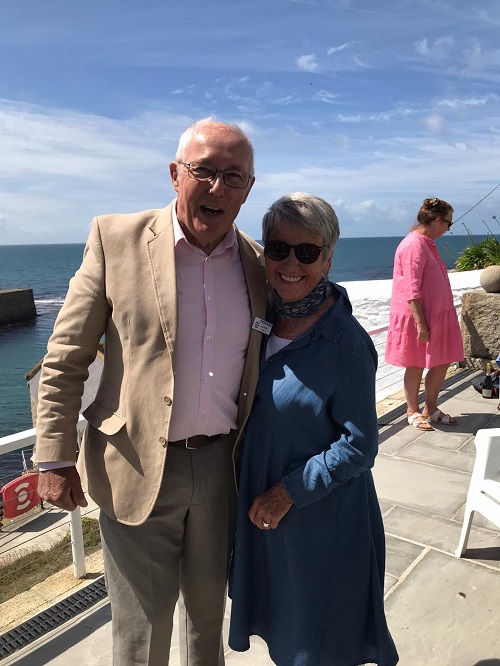 President Dr Ken Whittle and Committee Member Anne Russell

Mrs Anne Russell hosted a coffee morning for the League of Friends at her home in Porthleven and it raised over £600. We would like to thank all those who attended and supported the League of Helston Community Hospital. Due to Covid restrictions we will not be holding our Annual Fete at the Hospital this year.
---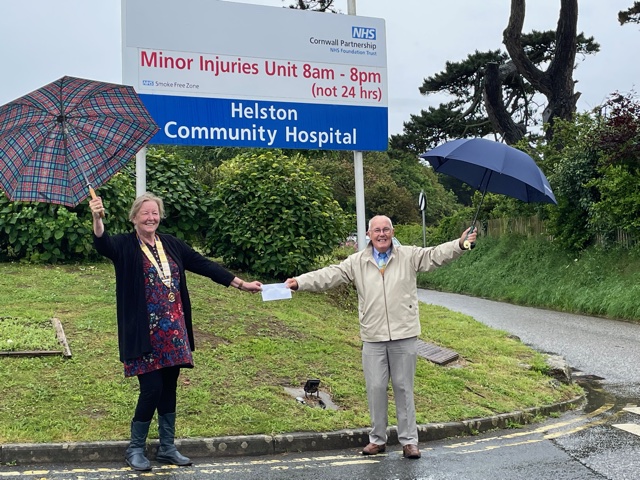 President of The Helston Rotary Club, Amanda Boxer, presenting a cheque
to Dr Ken Whittle President of The League of Friendsof Helston Community Hospital for £1472
from monies raised by its members during lockdown.

June 2021
---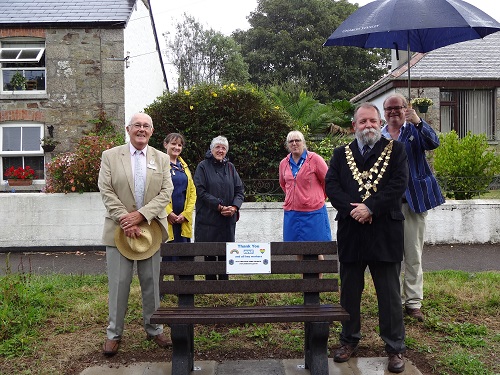 The Mayor of Helston John Martin and Councillor Tim Grattan-Kane with the League of Friends President Dr Ken Whittle, Chairman Heather Gilbert, Trudy Addington and Paula Hellier from Helston Community hospital with the new bench that the council have donated and dedicated to the NHS and all key workers.

It is situated on Meneage road, so if you are walking that way please take time to sit and reflect on the amazing work being done by the wonderful staff at Helston Community Hospital and all the key workers in Helston during this year difficult time. The council also very kindly donated £540 to the League of Friends to enable them to support the patients at the hospital.